One of What's Your META? key goals is to develop sporting talent in Scotland. The Meta Tri Division was set up to help provide a platform for talented triathletes to excel. The team is supported by a some of the best brands in the industry and What's Your META? is incredibly grateful for their help. You can follow how the Meta Tri Division is doing in the journal section. If you are interested to be a part of the team then please get in touch. We will look at supporting any triathlete who is trying to make their way in the sport.
Finlay has been racing triathlon for over 10 years, mainly long distance triathlons. At Ironman Austria, aged 21, Finlay went under 10 hours so knew he was suited to the longer format of the sport. He has raced the Ironman World Championships in Kona and the Ironman 70.3 World Championships.
His most notable results are finishing 11th overall at Ironman UK in 2018 and winning his age group (25-29) at Ironman UK in 2017 and 2018. Finlay is also one of our META Triathlon Coaches and is pursuing a new Ironman PB this season.
Anne initially competed in triathlon from 2007-2009. Notable results during this time included British 20-24 AG Sprint Champion and Scottish Aquathlon Champion 2008. She switched her attention to road cycling, competing for Scotland in the Commonwealth Games in Delhi 2010 and Glasgow in 2014.
Since taking up triathlon again in 2017, she has focused on middle distance races, winning her AG in Edinburgh 70.3 (2017) and a 3rd place finish at the Scottish Middle Distance Championships (2018).
Andrew has been racing triathlon at a high level for the last few years. He initially started racing sprint and standard distance triathlon before finding a love for middle distance triathlon. He has many notable results such as AG wins at Challenge Gran Canaria Half 2018 and Ironman 70.3 Edinburgh 2018 alongside many podium finishes. Podium finishes include 3rd at Grafham middle distance 2018, Scottish Olympic Champs 2018 and Ironman Weymouth 70.3 2017.
Andrew spent 3 years progressing as a coach with Triathlon Scotland before starting a new role as the lead triathlon coach for Stirling University in 2019. He is a qualified level 4 Triathlon Coach. Ferg, our newest team member, is coached by Andrew in Stirling. Woody has a busy season ahead with multiple middle distance triathlons.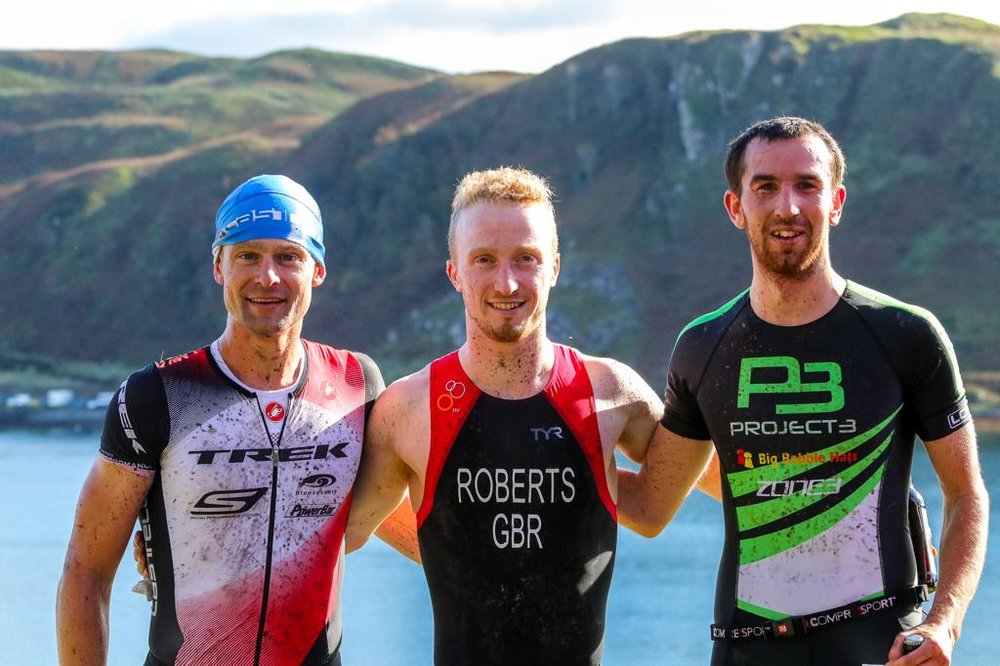 Ferg is about to race his first season in long course as a professional triathlete. He has previously been racing short course triathlon and was a part of the Triathlon Scotland set up. He studied geography while he was at Stirling University. Ferg has competed at the very top level in Britain and results such as 3rd place in the British Elite Championships (2018) shows the calibre of athlete he is. On top of that, he has been Scottish Champion in triathlon and duathlon multiple times.
This season is going to present a different challenge to Ferg and it will be exciting to see what he can achieve. The main objective is to qualify for the Ironman 70.3 World Championships in Nice.